Duration
10 Days/9 Nights
Travel Type
Rail & Hotels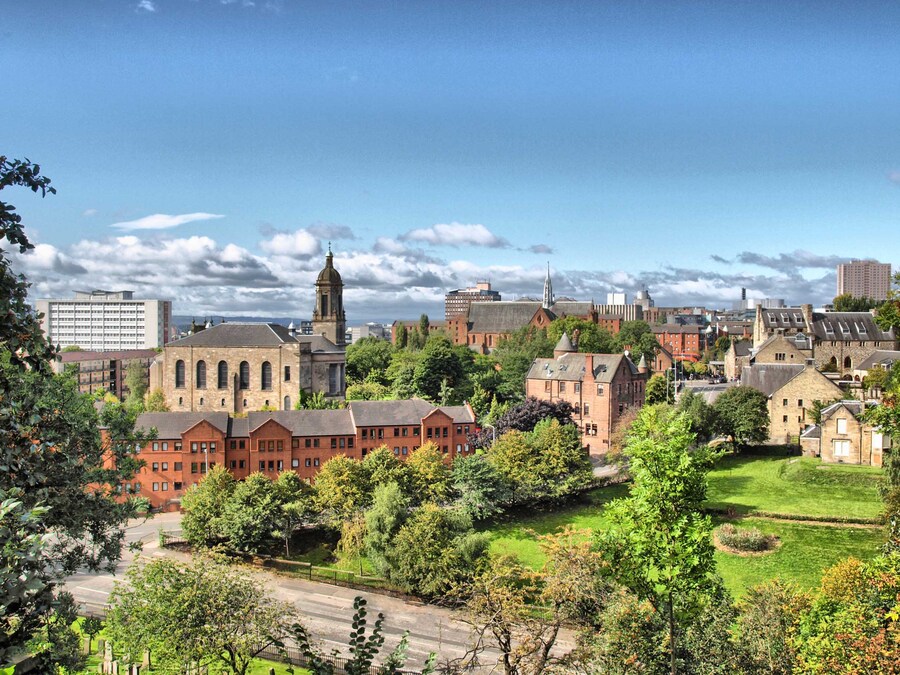 With this package, you will discover London and the highlights of Scotland. Enjoy 3 nights in London, 3 nights in Glasgow and 3 nights in Edinburgh, including the train segments between the cities.
If time allows it, add an extension to Dublin to explore the best of Ireland (+$)!
Inclusions
9-night accommodation
Daily breakfast
Arrival transfer in London Heathrow airport and departure transfer from Edinburgh airport
BritRail GB Consecutive Pass – available for 3 days, in standard class (days 4 & 7)
Exclusions
International or domestic flights – Meals and beverages unless otherwise indicated – Personal expenses – Gratuities for drivers and hotel staff – Entrance fees and visits to the cities visited – Any other items not mentioned in the Inclusions.
Additional Information
Note
Guests are travelling with a BritRail pass and will therefore travel at their own leisure; with the flexibility of choosing their preferred train/times. Guests will always need to check train times prior to travel as schedules vary (dependant on month & day of the week) and different routes are available. Guests will always need to check their selected journey as some trains may include a changeover (depending on train/time chosen by client). Train times will be published up to 3 months in advance.
3 Day BritRail GB Flexi Pass (for non-UK residents only)
Rail travel throughout England, Scotland and Wales
Available on all trains part of National Rail Network
To be used for travel between LONDON – GLASGOW & GLASGOW – EDINBURGH for this tour (1 extra day available at leisure to explore surrounding regions)
With a Flexi pass, your travel days do not need to be consecutive (3 days to be used within 1 month)
Once booked, the pass will be directly sent to the hotel in London – clients will be able to pick up their passes at the hotel reception.
Validating the pass: on the first day you clients wish to use the pass, clients must present this to a National Rail ticket office and ask them to date it with the date of validity. THE PASS WILL NOT BE VALID UNLESS THIS IS DONE.
Please advise at the moment of the booking: flight details, all names for all passengers and time of booking
ONLY valid for standard class and off-peak travel – Monday to Friday on trains departing after 09:15 (Edinburgh/Glasgow) and on any service at the weekend (Upgrades to First class are not available)
Please kindly note that this pass in non-refundable, non-amendable and non-exchangeable once booked (£208.00 per person).
DAY 1 LONDON
Arrival in London. Travel to your hotel and enjoy some time exploring the city. Visit attractions such as the Houses of Parliament, Trafalgar Square, Buckingham Palace, and Piccadilly Circus.
Accommodation :
London for 3 nights
DAY 2 LONDON
Free day to enjoy London's best attractions at your own leisure.
Meals :
Breakfast
Optional Excursions : Take a tour of London with Bustronome. This luxury double-decker bus lets you take in the sights of London, all while enjoying a culinary feast of local food and wine.

Later on, take in the city with a bird's eye view on the London Eye. The enormous London Eye is difficult to miss. It towers above Westminster and the Houses of Parliament giving you a fantastic bird's eye view over all of London. The ride takes 30 minutes and carries you up to a height of 135 metres - taller than a football field is long.
DAY 3 LONDON
Free day to enjoy London's best attractions at your own leisure.
Meals :
Breakfast
Optional Excursions : Visit the spectacular 300-acre Royal Botanic Gardens at Kew. Beautifully landscaped parkland joins expertly planted gardens, palm houses and more than 50,000 species of native and exotic plants, trees, and flowers. Don't miss a chance to walk in the treetops on the spectacular canopy walkway that affords great views across this World Heritage Site (+$).

DAY 4 TRAIN FROM LONDON TO GLASGOW
Take the train from London to Glasgow and check into your hotel. Do a little shopping on Style Mile, the area is packed full of independent boutiques and vintage fashion venues, or Merchant Square Craft Market.
Meals :
Breakfast
Accommodation :
Glasgow for 3 nights
DAY 5 GLASGOW CITY SIGHTSEEING BUS TOUR (optional +$)
Free day to enjoy Glasgow's best attractions and take an optional Hop On/Hop Off city sightseeing tour (+$). Admire the stunning Glasgow Cathedral, the Necropolis Victorian Garden cemetery on the hill from here you can get magnificent views back over the city or discover Glasgow's history and the story of its people all the way back to 1750 at The People's Palace.
Meals :
Breakfast
Optional Excursions :
Tuck into a quintessentially British experience and have Afternoon Tea at Willow Tea rooms - finger sandwiches, dainty cakes and delights can be enjoyed. Opened in 1983, the décor was inspired by designers George Walton and Charles Rennie Mackintosh, making this location a truly unique experience (+$).
DAY 6 GLASGOW SIGHTSEEING
Free day to enjoy Glasgow's best attractions at your own leisure. Voted one of the friendliest cities in the world, Scotland's biggest city is a stylish mix of arts, culture, and unique Celtic charm.
Meals :
Breakfast
Optional Excursions :
Take a day tour of the West Coast. With over twenty large lochs, rugged mountains in the north, rolling lowland hills in the south and loads of unique villages to discover, Loch Lomond and the Trossachs National Park offers something for everybody. Get walking, boating, climbing and exploring one of Scotland's most-loved landscapes (+$).
DAY 7 TRAIN FROM GLASGOW TO EDINBURGH
Take the from Glasgow to Edinburgh and check into your hotel. Take a walk around the city and stroke Greyfriars Bobby's nose, or take an easy climb up Arthurs Seat, the mythical-sounding mountain that looms over Edinburgh, and take in the city skyline views as well as the surrounds and Firth of Forth estuary.
Meals :
Breakfast
Accommodation :
Edinburgh for 3 nights
DAY 8 EDINBURGH CITY SIGHTSEEING BUS TOUR (optional +$)
Free day to enjoy Edinburgh's best attractions at your own leisure and take an optional Hop On/Hop Off city sightseeing tour the city's finest sights & attractions (+$).
Meals :
Breakfast
Optional Excursions :
Take a tour of Edinburgh castle. Perched on an extinct volcano at the top of Edinburgh's Royal Mile, Edinburgh Castle is the city's most popular tourist attraction. It became Scotland's chief royal castle in the Middle Ages and is now home to the Scottish Crown Jewels, the Stone of Destiny, the famous 15th-century gun Mons Meg, the One O' Clock Gun and the National War Museum of Scotland (+$).
DAY 9 EDINBURGH SIGHTSEEING / DAY TOUR SCOTLAND AREAS (optional +$)
Free day to enjoy Edinburgh's best attractions at your own leisure.
Meals :
Breakfast
Optional Excursions :
Take a day tour to a Scotch Whisky distillery. This is a great introduction to Scotland's national drink and excellent insight into the process of whisky making (+$).
DAY 10 DEPARTURE FROM EDINBURGH (OR EXTENSION TO DUBLIN +$)
Unfortunately, it is now time to leave Edinburgh. Return to the airport and join your flight home.
Meals :
Breakfast
HOTEL OPTIONS OR SIMILAR
LONDON:
3* Hotels – Best Western Delmere Hotel, Phoenix Hotel, Hampton by Hilton London Waterloo, Ibis, Styles London Gloucester Road, Ibis Blackfriars Hotel, Thistle Bloomsburry Park Hotel, The W14 Kensington
4* Hotels – Thistle Piccadilly, Doubletree by Hilton London Victoria Hotel, H10 London Waterloo, Park International Hotel, Hilton London Paddington, Doubletree by Hilton London Hyde Park, Amba Hotel Marble Arch, Crowne Plaza London – the City
5* Hotels – Flemings Mayfair, Hilton London Bankside
GLASGOW:
3* Hotels – Ibis Glasgow, Artto Hotel, Point A Hotel, Premier Inn, Travelodge Central, Mercure City Centre
4* Hotels – Doubletree by Hilton Glasgow central, Jurys Inn Glasgow, Novotel Glasgow
5* Hotels – Blythswood Square Hotel, Radisson Blu Glasgow
EDINBURGH:
3* Hotels – Parliament House Hotel, Ibis Southbridge, Jurys Inn Edinburgh
4* Hotels – Crowne Plaza Royal Terrace, Novotel City Centre, MacDonald Holyrood Hotel
4* Hotels – Radisson Collection Hotel Royal Mile, Nira Caledonia
Rates in $ CA, per person, starting from, in double occupancy 
Daily Departures – 2024
3* Hotels
4* Hotels
5* Hotels
January – February
1969
2209
3135
March
November – December
2015
2465
3425
April
2015
2805
3715
May
October
2240
2805
4310
June – July
2325
2840
4405
August
2790
3195
4510
September
2285
2835
4175
Supplements
Single
on request
Tour Code: J
**Prices in this document are for information only; they were issued at press time, for the current year. Please note that due to exchange rates and temporary promotions, they can increase or decrease at any time. Contact your travel agent for the price and promotion of the moment. The prices indicated exclude the contribution to the Customer Compensation Fund of $3.50 per $1,000 of tourism product or service purchased from a travel agent in Quebec.
UK in 10 days: London, Edinburgh and Glasgow – detailed itinerary
UK in 10 days: London, Edinburgh and Glasgow – detailed itinerary