Duration
15 Days/14 Nights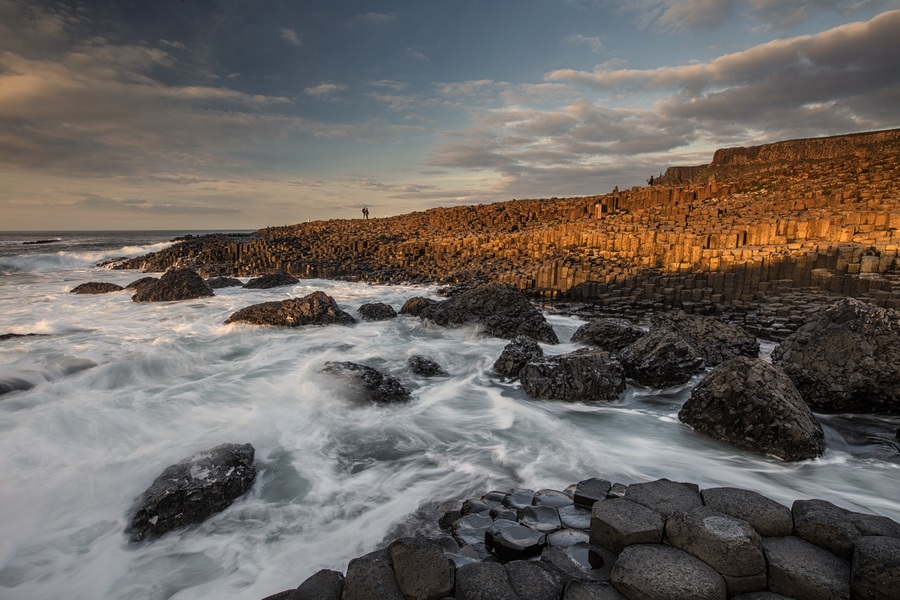 Enjoy a journey of a lifetime as you travel coastal road known as the Wild Atlantic Way. The west of Ireland and Northern Ireland will wow you with its epic landscapes and charm you with its quiet moments. This is a place that has inspired dreamers and drifters, poets and painters, with a landscape laced with dry-stone walls, thatched cottages, brooding mountains and deserted beaches. Escape, explore and enjoy an off-the-beaten track adventure on the very edge of Europe.
Inclusions
14-night accommodation in 3* hotels
Daily breakfast
Car rental (automatic economy) Nissan Micra (or similar). Includes: VAT, liability insurance, fire insurance, collision damage waiver (CDW) with deductible, theft protection (TP) with deductible; roadside assistance, unlimited mileage (please see rental company for complete details)
Service and VAT
Exclusions
Flights – Fuel, GPS, additional driver fee, insurance – Transfers – Entrances & transfers other than those detailed in the itinerary – Meals and drinks unless indicated in the itinerary – Personal expenses – Any other items not mentioned in the Inclusions.
DAY 1 ARRIVAL IN IRELAND
Welcome to Ireland! Arrival at Dublin Airport, collect your car hire and check-in to your accommodation. Overnight in County Dublin. Breakfast included starting on day 2.
Meals :
Breakfast
Accommodation :
County Dublin for 2 nights
DAY 2 DUBLIN SIGHTSEEING – TRINITY COLLEGE - GUINNESS STOREHOUSE
Today, after breakfast, spend some time exploring the cosmopolitan city of Dublin. Enjoy a tour of Dublin City at your leisure, stroll around the Georgian Squares and discover Phoenix Park, the largest public park in Europe. Go shopping in exclusive Grafton Street and enjoy a bite to eat in Dublin's trendy Temple Bar district. You can also visit the oldest University in Ireland, Trinity College, founded in 1592 by Queen Elizabeth 1st. Inside, visitors can view the famous and wonderful 'Book of Kells', a 9th century Gospel manuscript in Latin with the Four Gospels of the New Testament.
If time permits, you can take a tour at the Guinness Storehouse, with an interesting insight into the history and the brewing process of the world famous beverage. At the end of the tour enjoy a delicious pint of Guinness in the Gravity bar, which offers wonderful panoramic views across the city.
Meals :
Breakfast
DAY 3 DUBLIN – BELFAST – BELFAST SIGHTSEEING – TITANIC BELFAST
After breakfast, head north towards Northern Ireland and spend the day exploring the city of Belfast, famous for its industrial past and turbulent history. Belfast city centre has undergone considerable expansion and regeneration in recent years, notably around Victoria Square. People visit for any number of reasons and many come back repeatedly once they realise just how much there is to offer. Whether you are into culture, eating out, tours, sporting weekends, city breaks or even just a day trip, Belfast has got it going on.
Make sure to visit the famous Titanic Belfast, a 'must see' attraction in the country. The Titanic experience takes you through nine galleries, telling the story of RMS Titanic, from her conception in Belfast in the early 1900s, through her construction and launch, to her famous maiden voyage and tragic end. The galleries are innovative and interactive with many features including diving to the depth of the ocean to explore where RMS Titanic now rests.
Meals :
Breakfast
Accommodation :
Belfast for 2 nights
DAY 4 BALLYCASTLE – GIANT'S CAUSEWAY
After breakfast, make your way to the north of the country and stop to Ballycastle. This small town marks the eastern end of the Causeway Coast. It's a pretty town with a family-friendly promenade having a beautiful view on the Rathlin Island from the coastline.
Drive along the Causeway Coast, and stop at the famous Giant's Causeway. This incredible UNESCO World Heritage Site dates back to a volcanic age almost 60 million years ago and is an area of about 40.000 interlocking basalt columns. The tops of the columns form stepping stones that lead from the cliff foot and disappear under the sea. Most of the columns are hexagonal, although there are also some with four, five, seven and eight sides. The tallest are about 12 meters high, and the solidified lava in the cliffs is 28 meters thick in places.
Make your way back to Belfast, for your overnight.
Meals :
Breakfast
DAY 5 BELFAST – LOUGH NEAGH – LONDONDERRY
Explore more of this beautiful country and head towards Londonderry, but not before stopping on the way to Lough Neagh, the largest freshwater lake in UK & Ireland. This place offers visitors an opportunity to immerse themselves in heritage and history. Experience the untouched landscape and sample the unique charm and fantastic culinary delights that this region has to offer.
Arrive in the afternoon in Derry, also known as Londonderry, the second-largest city in Northern Ireland. There is a lot of history to absorb here, from the Siege of Derry to the Battle of the Bogside and Bloody Sunday. The city has a rich and varied cultural heritage and the City Walls are home to a number of museums, galleries and theatres, as well as thriving musical and literary scenes.
Meals :
Breakfast
Accommodation :
Londonderry for 1 night
DAY 6 NORTHERN HEADLANDS: MALIN HEAD TO DONEGAL TOWN - THE SURF COAST: DONEGAL TOWN TO ERRIS
After breakfast, it's time to leave Northern Ireland. Explore the Northern Headlands of the Wild Atlantic Way Route, from Malin Head to Donegal City. Drive along the coast through Glenveagh National Park and Dungloe and make your first stop in Donegal, the second-largest county in Ireland. Whether you are looking for a relaxing getaway in stunning surrounds, or fancy an outdoor adventure, Donegal has it all. With breath-taking scenery, golden beaches, rugged islands and a beautiful array of wildlife, this northern stretch of the Wild Atlantic Way is an absolute essential, any time of year.
Continue to the Surf Coast, from Donegal town to Erris, recently voted Ireland's 'Best Place to go Wild'. Pass through Sligo, and learn about the ancient history that has shaped the culture here down through the ages, giving rise to the vibrant way of life - with its great food, good-natured locals, incredible arts and literature and dedication to the environment.
Continue to Galway on the Bay Coast, which lays between Erris to Galway Bay.
Meals :
Breakfast
Accommodation :
County Galway for 2 nights
DAY 7 THE BAY COAST: ERRIS TO GALWAY BAY
Today, enjoy a full day exploring the Bay Coast. From the crystal waters of distant Erris to the "savage beauty" of much-loved Connemara, the Wild Atlantic Way skims south around some impressive bays.
The largest of these – Clew Bay – is said to have 365 islets and islands, one for every day of the year. Connemara means "inlets of the sea" in Irish, and here water and land merge in a lacy shoreline of loughs, coves, islands and sea-swept blanket bogs.
The Bay Coast is a salty fresh-air playground, with its dazzling beaches and Blueway trails, and where people come to kayak, kiteboard, paraglide, swim and dive. Cyclists follow the Great Western Greenway – one of the world's most scenic cycleways. Walkers climb the sacred Croagh Patrick mountain and Twelve Bens range.
If time permits, make sure to visit Kylemore Abbey, one of the most iconic places in Connemara. Originally built in 1867 as a romantic gift, Kylemore Abbey and the surrounding mountains and lakes are steeped in history including engineering initiatives, model farms, tragedy, royal visits, gambling debts, a hideaway during Ireland's troubled history as well as excellence in education.
Meals :
Breakfast
DAY 8 THE CLIFF COAST: GALWAY TO BALLYBUNION
Today, after your breakfast, enjoy a drive on the Cliff Coast, between Galway to Ballybunion. It's a place for clifftop walks, island-hopping, traditional pubs and views: rainbows in the ocean spray along the Loop Head Drive; colonies of puffins on the sheer Cliffs of Moher; bottlenose dolphins in the mouth of the Shannon; and the view of Clare's mountains from Kerry's Cliffs of Dooneen. Then there's the otherworldly Burren – a vast limestone pavement rich with rare flora, crossed by ancient green roads.
No Cliff Coast trip is complete without a stop at the Cliffs of Moher, Ireland's most visited natural attraction. The Cliffs rise up to 214m (700 feet) at the highest point at Knockardakin just north of O'Brien's Tower and range for 8km over the Atlantic Ocean on the Western seaboard of Co. Clare. It also boasts views of 5 counties on a clear day. The human story and history of the Cliffs of Moher dates back at least 2000 years. Mankind has told stories about these mighty cliffs and seen them form a part of myth and legends.
Before arriving in Limerick, if time permits, make sure you pass through iconic places like Kilkee and Loop Head Peninsula, to see its famous lighthouse. You can climb to the top of the lighthouse and take in splendid views that stretch from County Kerry to the Cliffs of Moher.
Meals :
Breakfast
Accommodation :
County Limerick for 1 night
DAY 9 SOUTHERN PENINSULAS: SOUTH KERRY TO WEST CORK
Today it's time to explore the Southern Peninsulas, laying from South Kerry to West Cork. In Ireland's beautiful far South West – where the ancient Kingdom of Kerry meets wild West Cork – five great peninsulas with mountainous spines stretch miles out into the ocean. This is great walking country, with long-distance trails and circular routes across the region.
You could find yourself paddle-boarding with dolphins, landing on a deserted archipelago once home to Ireland's greatest born-storytellers, taking a cable car with the ocean crashing below, visiting an abandoned copper mine, or star-gazing under Ireland's darkest skies. The route will take you through Tralee, Dingle, finishing in Killarney area for overnight.
Meals :
Breakfast
Accommodation :
Killarney area for 1 night
DAY 10 KILLARNEY NATIONAL PARK – ROSS CASTLE – KENMARE
Today you will spend a full day exploring County Cork, starting with the Killarney National Park. Make sure to explore this beautiful park sitting at the foot of Ireland's highest mountain range, the Macgillycuddy Reeks. There is plenty to see and visit in the park: Muckross House & Gardens, Muckross Abbey, Torc Waterfall, Ross Castle, amongst others.
The second half of the day spend it by visiting the charming city of Kenmare, famous for its Golf Courses, gourmet food, tranquility and breathtaking scenery.
Overnight in County Cork.
Meals :
Breakfast
Accommodation :
County Cork for 2 nights
DAY 11 THE HAVEN COAST: BANTRY VIA SKIBBEREEN TO KINSALE
Today explore The Haven Coast, the southernmost stretch of the Wild Atlantic Way zigzags gently, from Kinsale through Skibbereen and on to dreamy Bantry Bay. Visit the colourful city of Kinsale. The picturesque heritage town of Kinsale boasts narrow, winding streets lined with irresistible artsy shops, buzzing bars and gourmet restaurants, all set in a beautiful harbour full of bobbing fishing boards and pleasure yachts. After sampling some of culinary delights of Kinsale, set your sights further west and discover the Old Head of Kinsale.
Meals :
Breakfast
DAY 12 DUNGARVAN – WATERFORD
After breakfast, you continue towards County Waterford, passing through the harbour city of Dungarvan. Arrive in the city of Waterford, Ireland's oldest city. On arrival, visit the legendary Waterford Crystal Visitor Centre. Founded by George and William Penrose in 1783, the factory is a world leader in the manufacture of crystal. Take a guided tour to learn the secrets of the manufacturing process and understand the attention to detail required to make each piece of crystal. A fascinating visit not to be missed! Continue your tour at Lismore Castle, built in the 13th Century in a Gothic style by King John. You will be completely captivated by its panoramic and imposing position overlooking the River Blackwater. Stroll through enchanted gardens with beautiful collections of magnolias, camellias, rhododendrons, herbaceous borders and contemporary sculptures. The historic garden is divided into two parts; one represents the 17th Century (1605 by Richard Boyle), and the other one is the image of the 19th century. You will be enchanted by the castle's mystic charm.
Overnight in County Waterford / Kilkenny.
Meals :
Breakfast
Accommodation :
County Waterford / Kilkenny for 2 nights
DAY 13 WATERFORD - KILKENNY SIGHTSEEING
Today explore county Waterford at your own leisure. Enjoy this area package with a myriad of beaches, hiking trails and bike routes that ensure you see the best of what the county has to offer.
Meals :
Breakfast
WICKLOW MOUNTAINS NATIONAL PARK - IRISH EVENING
Today is time to head back to Dublin. On the way, pass through the Wicklow Mountains National Park and enjoy driving through this wonderland of natural beauty. The most popular stop in Wicklow Mountains National Park is the Monastic City at Glendalough. Set in what is known as the valley of the lakes, the early Christian site was founded by Saint Kevin in the sixth century. Here you will find the ruins of a cathedral and an impressive Irish round tower. Arrive in Dublin where you can enjoy your last evening in Ireland by attending a typical Irish show (3 course meal, dance and music show) at the Arlington Hotel.
Meals :
Breakfast
Accommodation :
County Dublin for 1 night
DEPARTURE FROM DUBLIN
Unfortunately, it is now time to leave Ireland. Return to the airport for your flight home.
Meals :
Breakfast
Rates in CA$, per person, starting from, in double occupancy – Land Package

Departures 2023
3* Hotels
(including car rental)
April
3380
May
3539
June
3590
July
3695
August
4310
September
3739
October
2975
November – December
3945
Single Supplement
on request
**Prices in this document are for information only; they were issued at press time, for the current year. Please note that due to exchange rates and temporary promotions, they can increase or decrease at any time. Contact your travel agent for the price and promotion of the moment The prices indicated exclude the contribution to the Customer Compensation Fund of $3.50 per $1,000 of tourism product or service purchased from a travel agent in Quebec.
Wild Atlantic Way – Promotional flyer
Wild Atlantic Way – Promotional flyer