Travel Type
Rail & Hotels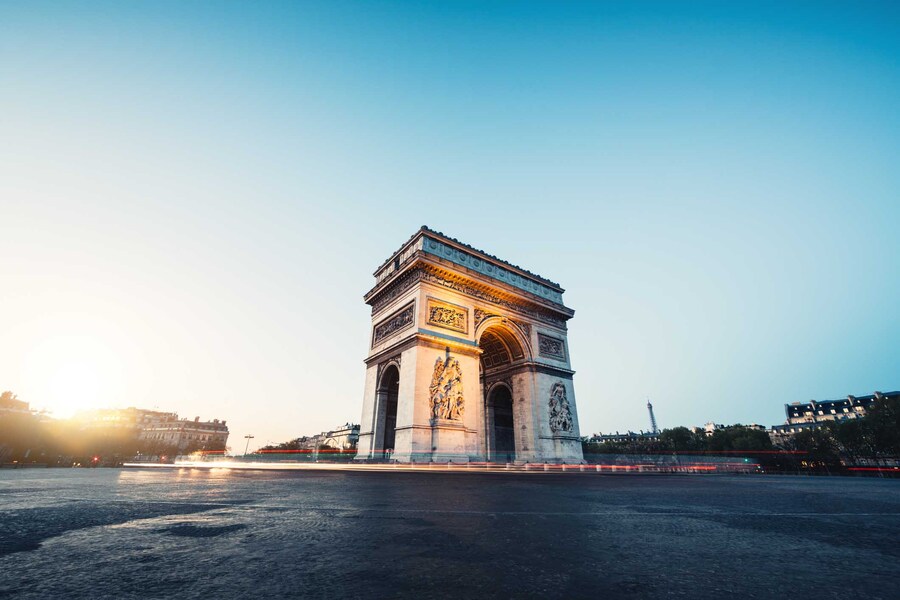 Start your journey off in the City of Lights, Paris! The city is a permanent celebration of culture and gastronomy. Then slake your thirst in wine-country, Bordeaux before heading to the Pink City, Toulouse, to sample the famous Le Fenetra, a dessert baked since the Roman times with candied lemon peel, sweet butter, toasted almonds and apricot preserves.
This tour will have your taste buds thanking you!
Inclusions
7-night accommodation
Daily breakfast
Arrival and departure transfer from and to the airport with English-speaking driver assistance
High-speed train tickets (TGV): Paris – Bordeaux / Bordeaux – Toulouse, in economy class
Exclusions
Flights – Gratuities – Porterage – Hotel city tax to be paid locally at destination – Night supplements for transfers (before 8am – after 8pm) – Any other items not mentioned in the Inclusions.
Additional Information
OPTIONAL EXCURSIONS (+$):
The Paris 'Passlib' City with the choice of 5 activities:
This pass gives access to 5 out of 52 activities in the city of Lights. One can simply choose the attractions or activities of their interest and build their own sightseeing program.
A 3hr Paris Private City Tour by Car with a Licensed Local Guide (not valid on May 1st)
A 2h00 Walking Tour of the Bordeaux Historical Center (not valid on May 1st)
A 2hrs walking tour of Toulouse historical center (not valid on May 1st)
Note
Want to extend your stay in France after day 8? Take an economy class TGV train from Toulouse to Lyon for only $155 per person!
DAY 1 ARRIVAL IN PARIS
Arrival at Paris airport. Meet with your English-speaking driver-assistant after the customs and transfer to your hotel. Overnight in Paris.
Meals :
Breakfast
Accommodation :
Paris for 3 nights
DAY 2 PARIS
After breakfast, take the opportunity to explore the city of lights at your own pace. French capital of gastronomy and love, Paris enjoys an incomparable historical and cultural heritage. Discover the most emblematic monuments: the Eiffel Tower, the Arc de Triomphe, Notre-Dame de Paris, Sacré-Coeur, the Opéra Garnier, the Louvre Museum... Do not resist in the charm of its picturesque streets, its squares, and its gardens. Taste the renowned French cuisine in one of the countless Parisian bistros or enjoy a show at the Moulin Rouge, famous worldwide for its French Cancan, and immortalized by the painter Henri de Toulouse-Lautrec.
Meals :
Breakfast
DAY 3 PARIS
Breakfast at your hotel and then make the most of your last day in the magic city: experience an ultimate activity or do some shopping! From chic and haute couture to bohemian and trendy, there are variety of places to go shopping depending on what you're looking for!
Meals :
Breakfast
DAY 4 PARIS TO BORDEAUX BY TRAIN
Enjoy a tasteful breakfast at your hotel. Transfer on your own to Paris Montparnasse railway station and board your TGV train to Bordeaux.
Steeped in history, and famed for its unique art de vivre, Bordeaux boasts a rich heritage and houses numerous historic and modern monuments. See the Opera House, the pride and joy of the city, the Pey-Berland Tower, the Saint-André Cathedral, the Porte Cailhau, and the Place de la Bourse. Turned towards vast Atlantic horizons, the vibrant district of Bassins à Flot symbolises the Bordeaux of tomorrow. It stretches opposite the Chaban Delmas lift bridge, the city's new iconic landmark.
Transfer on your own to your hotel and overnight in Bordeaux.
Meals :
Breakfast
Accommodation :
Bordeaux for 2 nights
DAY 5 BORDEAUX
To explore the city and its heritage, you will be spoilt for choice!
Discovering Bordeaux on foot is the best way to experience the city's diversity. The city, drawn up with a compass by 18th century architects and town planners, is synonymous with harmony: Whether you wish to wander through Bordeaux's World Heritage area and its beautiful quarters, discover the hôtels particuliers, visit its museums, stroll in the beautiful squares and avenues are spread all along this route that takes you through picturesque areas like Saint Rémi and Saint Pierre quarters. Savor the sumptuous flavors of several Bordeaux delicacies and meet their passionate craftsmen and taste the worldwide renowned Bordeaux wines in one of the numerous wine bars.
Meals :
Breakfast
DAY 6 BORDEAUX TO TOULOUSE BY TRAIN
After breakfast, transfer on your own to Bordeaux railway station and board your train to Toulouse.
Also called "the pink city" due to the use of bricks, warm, spontaneous, and passionate, Toulouse is the capital of Occitania.
Transfer on your own to your hotel and overnight in Toulouse.
Meals :
Breakfast
Accommodation :
Toulouse for 2 nights
DAY 7 TOULOUSE
Toulouse is as warm as its weather: conviviality and art de vivre are on the menu. Immerse yourself in the history, culture and architecture of the French city of Toulouse, exploring its elegant streets and squares. Discover the emblematic Capitol, the Cathédrale Saint-Étienne, the Toulouse Cathedral, Toulouse's Fine Arts Museum, and the Musée des Augustins.
Wander along the banks of the Garonne River to take in the views of the famous Pont Neuf, or New Bridge. Also see the Jacobins Convent, a jewel of southern Gothic art and the largest Romanesque church in the world, the Saint Sernin Basilica. Not to be missed during your stay is the local gastronomy. Whether it's the famous cassoulet, or rather contemporary and creative flavours, it's worth noting that Toulouse boasts prestigious Michelin star chefs, unavoidable cellars, lively terraces neighbourhood cafés to delight those in search of original places for lunch or dinner.
Meals :
Breakfast
DAY 8 DEPARTURE FROM TOULOUSE
Enjoy a tasteful breakfast at your hotel. Meet your private car driver in the hotel lobby and transfer to the airport or extend your stay in France.
Meals :
Breakfast
HOTEL OPTIONS OR SIMILAR
Paris – Opéra d'Antin 3*
Bordeaux – Cœur de City Hotel Bordeaux Clémenceau 3*
Toulouse – Quality Hotel Toulouse Centre 3*
Rates in $ CA, per person – Land Rate

Daily Departures 2024
Double Occupancy
Single Occupancy
April
1915
3135
June
September
October
2149
3600
Supplements
High-speed train ticket (TGV) from Toulouse to Lyon, in economy class on Day 8
155 per person
Optional Excursions
Paris city "PassLib" with choice of 5 out of 52 activities
+230 per person
4hr Paris private city tour by car with a licensed local guide
+330 for per person
(basis of 2 participants)
2hr walking tour of the Bordeaux historical center
+170 per person
(basis of 2 participants)
2hr walking tour of Toulouse historical center
+170 per person
(basis of 2 participants)
Tour Code: L
BLACKOUT DATES (dates may be modified without prior notice)
Paris: April 01; May 01, 08-09, 19-20; July 01-25 (pre-Olympic Games), July 26-August 11 (Olympic Games); August 12-31 (post-Olympic Games)
Bordeaux: April 01; May 01, 08-09, 19-20; June 27-30 (Vinexpo); July 14; July 24-August 02 (Football Olympic Games); August 15
Toulouse: April 01, 07; May 01, 08-09, 19-20, 27; July 14; August 15; September 24
**Prices in this document are for information only; they were issued at press time, for the current year. Please note that due to exchange rates and temporary promotions, they can increase or decrease at any time. Contact your travel agent for the price and promotion of the moment The prices indicated exclude the contribution to the Customer Compensation Fund of $3.50 per $1,000 of tourism product or service purchased from a travel agent in Quebec.
French City Trio: Paris, Bordeaux, Toulouse – detailed itinerary
French City Trio: Paris, Bordeaux, Toulouse – detailed itinerary